The Repair Campaign's Socioeconomic Reparatory Justice Plans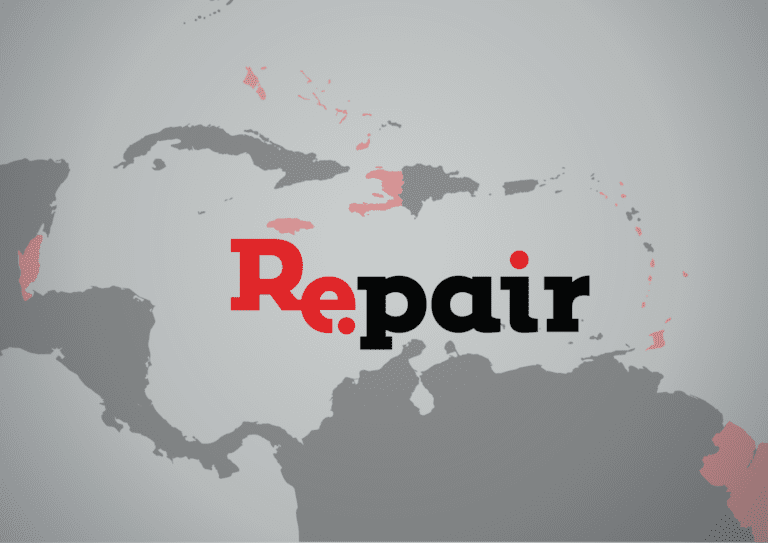 The Repair Campaign was founded in October 2022 and is funded personally by Denis O'Brien, who has worked in the Caribbean for over 23 years. It is a social movement for reparatory justice in the Caribbean, recognising that genocide, chattel enslavement, and colonialism inflicted deep and enduring damage on the people of the Caribbean while providing significant financial benefits to the colonisers.    
The Repair Campaign is part of intensifying efforts to urge governments, institutions, organisations, and individuals to acknowledge their role in the transatlantic trafficking of enslaved Africans. We are guided and endorsed by the CARICOM Reparations Commission (CRC), a regional body committed to reconciliation and reparatory justice, and its 2014 Ten Point Plan for Reparatory Justice.  
The Repair Campaign is rooted in existing demands by regional leaders, advocates, organisations, and communities. We work closely to support and complement local agencies, institutions, and governments in this campaign. Our goal is to amplify voices calling for reparations in the Caribbean and apply pressure on former colonial powers to commit to reparatory justice. We intend to do this by producing country-specific, evidence-based Socioeconomic Reparatory Justice Plans that identify key areas in which reparations would have an intergenerational and sustainable impact. The suggested interventions will also be scoped and costed by experts, meaning a detailed roadmap is readily available for reparations to be implemented.  
Since the beginning, The Repair Campaign has engaged with Sir Hilary Beckles, Chairman of the CRC, and, with his guidance, has engaged The Sir Arthur Lewis Institute of Social and Economic Studies (SALISES) at The University of West Indies (UWI). Under the leadership of Professor Don Marshall, Socioeconomic Reparatory Justice Plans for the 15 member states of CARICOM are being produced, using evidence-based data and research. The Centre for Reparations Research (CRR) at UWI, directed by Professor Verene Shepherd, provided a historical review for each of the plans.  
These plans are informed and guided by the CRC's Ten Point Plan for Reparatory Justice and are also underpinned by the scholarship of Sir Hilary Beckles who proposes a reparatory agenda that addresses the underdevelopment of Caribbean states, as laid out in his seminal work, 'How Britain Underdeveloped the Caribbean.' The purpose of developing these plans, in consultation with National Reparations Commissions, civil society organisations, and governments, is to use them as lobbying tools as part of a reparatory justice roadmap.   
The Repair Campaign also sent two teams of Rapporteurs to all 15 CARICOM member states and met with over 280 stakeholders, including heads of state and government ministers, members of the opposition, church leaders, civil society organisations, the Rastafarian community, Indigenous and youth groups, amongst others. These invaluable discussions, in addition to the research conducted by SALISES and CRR, inform the Socioeconomic Reparatory Justice Plans to reflect a wide cross-section of opinions and expertise. 
From these extensive meetings, The Repair Campaign understood the layers and complexities around the legacies of genocide, chattel enslavement, and colonisation. Repeatedly, we were told that this is not only about financial reparations but also "internal" reparations – this is evidenced by the psychological impact, which has left an intergenerational legacy of trauma. We heard how critical an apology for these atrocities is to begin to repair the emotional and psychological impact, but we also heard that this apology should be made in partnership with the countries impacted.  
Alongside the work being done in the Caribbean, we have also begun engagement with key decision-makers in the United Kingdom. As part of this, we have hired a campaign coordinator. The coordinator will work with civil society organisations, politicians, church leaders, students, and other relevant stakeholders to help advance the reparatory justice movement. 
The movement toward reparatory justice is making progress and is slowly but surely gaining momentum. We are humbled to be part of this journey.   
Endorsement for The Repair Campaign
"The Repair Campaign is designed to diversify, deepen and ultimately to widen the Caribbean Reparatory Justice Movement. It is both timely and welcomed. It is anticipated that the results will be impactful. The focus on economic development as the object of reparations is consistent with the CARICOM perspective."  
Professor Sir Hilary Beckles 
Chairman CARICOM Reparations Commission,
Vice-Chancellor, UWI
"I would like to commend Denis O'Brien and 'The Repair Campaign' team for joining the CARICOM Reparations Commission and Caribbean reparation advocates in general, in their protest against the harms done by chattel enslavement and colonialism and their call for reparatory justice. In addition to making his commendable financial contribution to Caribbean repair for colonial harm, I encourage Mr. O'Brien to intensify his own call on the United Kingdom of Great Britain and Northern Ireland, and other former colonial powers, to respond to CARICOM's call on them to settle the massive debt owed to the region."  
Professor Verene Shepherd  
Director, Centre for Reparation Research, UWI  
Chair, The UN Committee on the Elimination of Racial Discrimination